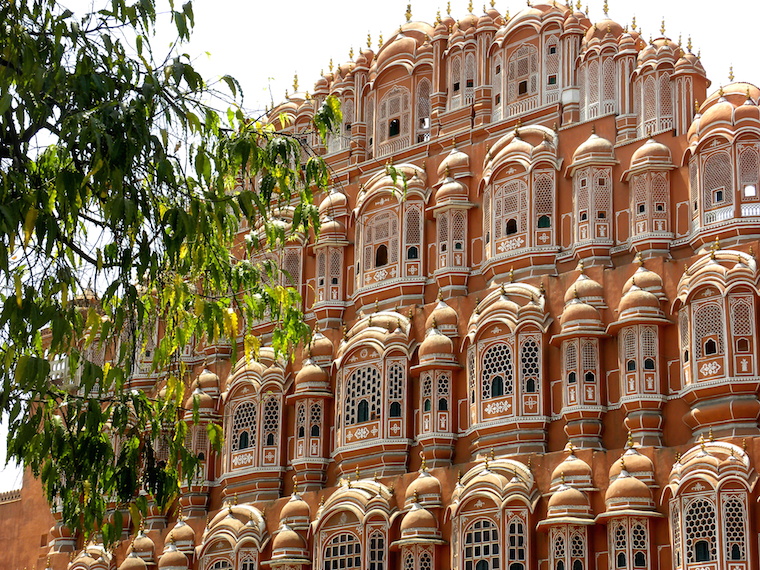 Travelling will always leave memories, sometimes it is the big, one off,  being in a place you have always dreamt of, sometime it's just little snapshots of the total experience to be captured in an album or an ebook – and sometimes it is the very small details of the place you are in which matter to no one except you.  My recent trip to India furnished me with all of the above – the Taj Majal at dawn, arriving at the palace on the lake, an evening ride around Udaipur in a vintage car, these were the easily recalled images which many others have shared.  To me however, equally precious are the small things that only I saw and that only I will remember, the drift of evening cooking fire smoke curling into a Delhi sunset, the frantic flurry of parrots chattering to roost in a park, the rough, earthy feel of the terracotta cup containing the most delicious lassi I have ever tasted, all of these are precious too and I want to share at least some of them………..
Arriving at New Delhi was the usual whirlwind of luggage, people, heat, noise – and the calming and incredibly secure feeling one gets when a face in the crowd steps out  and your holiday, from then on,is organized for you.  Our 'man from Greaves' couldn't have been more helpful and we were transferred with minimum fuss to our first hotel, the delightful Taj Mahal New Delhi.
Arriving in an Indian hotel is like arriving now where else.  A cooling drink, a wonderful fragrance which I have yet to identify, slightly spicy, floral and soothing and then the moment when the luggage appears in your room, the door shuts and you can look out of the window and realise where you actually are. The Taj Mahal Hotel was a cool oasis in the bustle of New Delhi and the welcome was enough to make our post flight fatigue disappear in an instant.
This is the perfect introduction to this part of India, the pool was surrounded by well-kept gardens which were cooling on the eye and the service was of a standard that is exemplary. We found that throughout our holiday we were incredibly well looked after – Indian hospitality is amazing. Our view was certainly a view to remember – the Presidential Palace on the left, India Gate on the right and in between the smaller details of a huge city, a park full of parrots, a bike park kept clean and dust free by a possey of sweepers and a tiny beautifully tended veg. plot watered and worked on by a family who took it in turns to weed and water and harvest – an entire story from one window!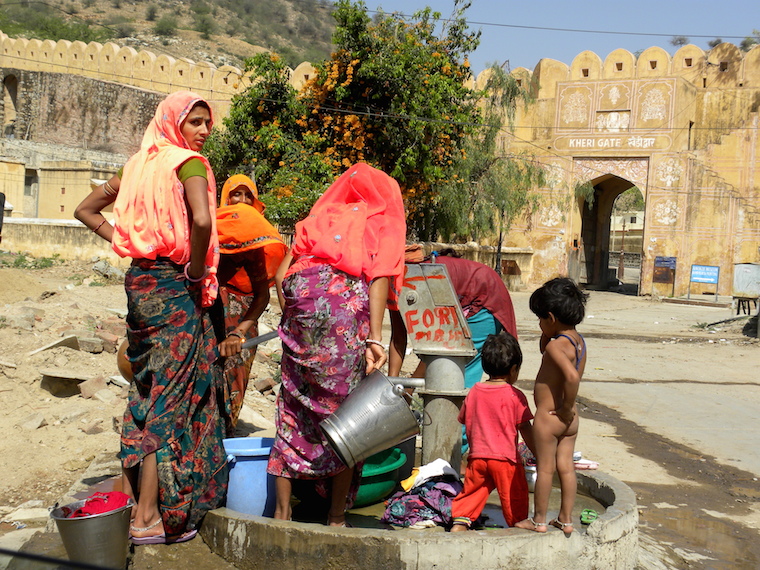 The Lutyens and Herbert Baker designed buildings of New Delhi were a surprise, monumental architecture indeed but the biggest surprise were the gardens lining the wide boulevards – blousy swathes of Nicotiana, Salvia, Dahlias and fragrant pinks spilled onto the well clipped lawns and it was a source of great pleasure to see these English garden favourites behaving like local dancing girls, exuberant and wild in the heat of India!
On our second night we dined at Varq which was a wonderful introduction to fine dining India style –  and then we were off on our journey.
The first stop was Agra and our hotel, the wonderful Oberoi Amarvilas, furnished us with our very own Taj Mahal backdrop seen from our bedroom window before we had even set foot in the town itself. With stunning views of the Taj Mahal, an incredibly stylish pool and grounds and a great terrace for sipping something cooling whilst watching the evening light over Shah Jahan's beautiful monument to his beloved wife.
This hotel is the one hotel in Agra that is close to the Taj Mahal.  You can go the monument courtesy of a hotel golf buggy thus bypassing the hustle and bustle and hawkers of all things Taj  that you probably don't want to buy – unless you like kitsch travel souvenirs in which case this is the street for you!
We opted for a sunrise visit, admirably organised by our 'man from Greaves' – and as the hotel are quite used to early risers, coffee and pastries were on hand at the early hour to fortify us for our trip.  I have to say that a visit to the Taj was not fantastically high on my list but how wrong I was.  Our amazingly knowledgeable guide whisked us quickly through the foot traffic and we found ourselves almost alone apart from a few birds and some dogs splashing in the cool of the rills. We sat in silence as the sun turned the pale white dome of this beautiful memorial to the palest pink opalescent pearl.  As the sun rose further it picked out the inlaid stones which in turn shimmered and glistened until the sun was high above and the whole edifice shone in the glare of the day.  We donned our eco friendly shoe covers and mounted the steps to marvel at the exquisite detail of the work, marble tulips seemed to drip dew, lilies and roses curled and flattered and the inlaid tombs themselves were just astonishing, and very moving.  The story is a sad one but the legacy it left behind is a testament to a great love and the craftsmen who gave this stunning building life and beauty.
We left the Taj Mahal, the Red Fort and the wide boulevards of New Delhi behind and were soon on the road to the pink city – Jaipur.  On the way we stopped at Fatehpur Sikri, now a World Heritage Site, which served as the Mughal capital from 1571 and is now deserted.  The carved white marble tomb of Sheikh Salim Chishti,  a Sufi saint, was covered with beautifully embroidered cloths and heaps of fragrant rose petals and the intricately carved marble screens around the tomb are studded with the single woollen votive threads left by couples hoping that their offering and prayers will result in the birth of a son.
Speaking of roads, may I please give a very big shout out to our dextrous and brilliant driver G2.  Indian roads are not for the fainthearted – cows, camels, elephants and that great mad missile the Indian bus all conspire to remove you from the road and, a slightly hair raising highlight, the man in pebble glasses driving what appeared to be a car held together by rope and string driving determinedly towards us, in the fast lane of a three lane highway – the wrong way!  This did not cause even a sharp intake of breath as G2 calmly navigated them all with an indulgent smile and, at worst, a very slight shake of the head.  We felt supremely confident throughout our trip and if you are lucky enough to have G2 as your driver then rest assured you will be wonderfully looked after – and he also knows the safest and best snacks to quench thirst and hunger on a long drive.  I am still not sure what the lovely curly cucumber things were called that he found for us but dipped in a little salt and munched enroute they were the ideal snack – G2 you are a legend!
Our hotel in Jaipur was the delightful Oberoi Rajvilas – and after a day spent wandering around Fatepur Sikir and a couple of hours in the car we were charmed by our cool room overlooking green lawns, and a restorative dip in the pool was all we needed to prepare us for some exploration of the hotel and gardens. As well as the grandeur and impeccable and charming service I shall remember the Rajvilas for the amazing birdlife – the daily arrival of birds to roost was quite an event and the noise of their chatter was a backdrop to a cool drink and dinner before our day in Jaipur.
Jaipur was indeed pink, or more properly a warm terracotta, and we enjoyed a stroll around with an excellent guide taking in the iconic Palace of the Winds which is a facade from which the ladies of the court could gaze down at the bustling streets whilst remaining hidden from view.   A culinary highlight was a stop to enjoy the most wonderful sweet lassi, cool, sweet and billowing with soft delicious curds which we ate with a spoon, one of the most delicious things I have ever eaten. Lassiwala has been making wonderful lassi since 1944, but get there early, they run out mid afternoon! The handmade terracotta single use beaker in which my lassi was served is even now sitting on the dresser in my kitchen- I couldn't bear to see it discarded and lugged it home wrapped in hotel shower caps!
From the pink city to the blue city, Jodhpur.  What can I say about the extraordinary Umaid Bhawan Palace, our hotel for two amazing nights. The largest private residence in the world it was built by the father of the current Maharajah, who still lives in part of it, as a way of giving his subjects work at a time of great hardship when work and food were scarce.
Arriving is an experience which I won't reveal, it should be for you as it was for us, a wonderful surprise but suffice it to say that I was tempted to look behind me to see who it was who deserved such a welcome. This palace is a glorious art deco extravagance and sipping champagne under the vast dome to the strains of the music that would have entertained the original guests, breakfasting under the portico to the strains of a flautist while peacocks flirted, and enjoying a drink surrounded by trophies of an earlier age was a very special experience and I smiled as I passed a chap who had just arrived, looking slightly overwhelmed and muttering 'I think I have died and gone to heaven', couldn't have put it better myself!
Jodhpur itself had some wonderful surprises, not least the penchant for some local gentlemen to wear very stylish, yes you've guessed it, jodhpurs.  I was so tempted to take a quick picture of a very stylish gent who arrived at our hotel wearing what appeared to be a classic grey business suit – but the trousers were in fact wonderfully tailored traditional jodhpurs tight around the calves and flaring at the top – tres chic.
The Mehrangarh fort which we had glimpsed from our dining table the previous evening proved to be a stunning surprise.  Not merely a defensive structure, it was built in 1459 on a rocky range of sandstone hills 120 metres above the city with additions through the centuries including palaces built later by Maharaja Jaswant Singh. Housing collections of the amazing and exquisite miniature paintings, palanquins, howdahs and jewellery it is a labyrinth of fabulous surprises including a couple of itinerant snake charmers.  Since one of the snakes had a moment when he thought freedom was an option I have to say that I chickened out of handing my rupees over myself, much to close for comfort to said snake – so a passing child did so for me!  We were very lucky indeed to coincide with one of the many ceremonies and so sat with a cooling glass of ginger and fresh coconut juice watching drummers, trumpeters, horses and bands march down the hill towards the town – magical!
On now to the hotel which I have dreamed of staying in ever since I saw a picture of it when I was a little girl ,The Taj Lake Palace at Udaipur.  It looked magical and has remained in my memory since then and so I was a little apprehensive in case my imagination was better than the reality.  No such worry – it was in reality even more beautiful, and as rose petals rained down on us from the roof we were transported to a place of light shimmering off the lake, elegant airy rooms and  gardens and the sounds of the temple festivals hovering on the still night air.
We stayed in the quite beautiful Khush Mahal,the Queens Suite, which I can only describe as akin to sleeping in a jewel casket.  The coloured glass at the windows shimmered garnets, sapphire, emeralds and diamonds across the ceiling and walls as the light reflected off the lake and I sat in happy contemplation just watching them – another small memory.  This is a very special place, arriving and leaving by boat, the cool of an early morning dip in the beautiful pool and the smiles and charm of the staff – unforgettable.
Udaipur was also a treasure, the City Palace contained so many treasures and the city itself has a wonderful artistic tradition, a highlight of which was a visit to Ganesh Handicraft Emprium, a labyrinth of rooms stacked to the limit with silks and cashmere, calico and velvets all hand embroidered.  I am apparently not alone in my enthusiasm, as I was wandering around I caught sight of a picture of one Dame Judy Dench – taken the week before!
I hope I have given you a flavour of this holiday of dreams – made possible by the impeccable planning and  care taken by Greaves,  and the wonderful hotels we stayed in and the charming people we met – just perfect.
The combination of truly fabulous hotels, superb organisation, the interest of the car journeys and the chats we had with our guides and our great driver gave us an extra dimension and insight into the extraordinary and special places we visited.  I feel very fortunate and privileged to have travelled to places that hitherto I have only traced rather whist fully, on my huge map of India with my finger!
Home again now but I am left with a kaleidoscope of memories, the Palaces and the parrots, the big and the little things- all memories as intricate and precious as the pattern on a cashmere shawl……………..
Travellers tips
Greaves travel, who made it all possible.
Oberoi Hotels, the Amarvilas, Agra and the Rhajvilas.
Taj Hotels, the Umaid Bhawain Palace, Jodhpur, The Taj Lake Palace, Udaipur
The House of  MG, Ahmedabad a charming hotel with a lot of character – and a pool with a difference!
We flew into Delhi and home from Ahmedabad with Emirates.
Ganesh Handicraft Emporium City Palace Road, Udaipur
Lassiwala- making lassi since 1944- 314, Ground Floor, Mirza Ismail Road, Near Raj Mandir Cinema Hall, Jaipur, India
Top packing tips
A torch, power cuts are not rare and lighting n hotel grounds can sometimes be dim.
Good anti mosquito defences, I found some impregnated wipes which were easy to use and slightly less horrible than the sprays, make sure the DEET content is high.
To bring home
Spices but not in vast quantities as they don't stay fresh forever.
Jewellry, silver is wonderful and gemstones a great buy – remember if it seems too good to be true ………
Embroidery, silk, gorgeous floaty tops, if it is good enough for Dame Judy ……