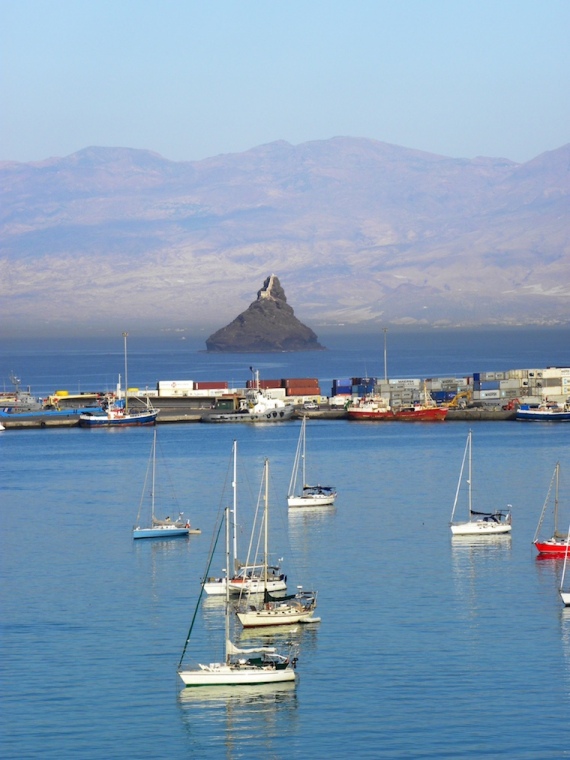 There is something very pleasing about leaving from Gatwick on a very cold December morning and a few short hours later emerging, blinking, into a warm and sunny day in Tenerife. The short drive from the airport to the ship was a brief glimpse of arid tufa, spectacular cacti and the odd unremarkable small town but our arrival at Santa Cruz was a thrill as we were swiftly reunited with one of our favourite ships, MS Braemar, docked and waiting for us.
There were in fact several cruise ships docked, all much larger than ours but, for me, a little too glitzy and slab sided. I like a ship that looks like a ship and feels like a ship and MS Braemar fulfils that criterion admirably, lots of open deck space, gleaming wood and brass and a friendly, bustling atmosphere which allows you to do as much, or as little, as your holiday plans dictate. Santa Cruz itself is a charming town and the perfect way to slide gently into holiday mode, a glass of sangria at a street café, a spot of retail therapy, and leather goods seemed café, a spot of retail therapy, and leather goods seemed excellent value – now just where am I going to pack that pair of boots! While the locals were dressed for a chilly autumn day the temperature was in fact a pleasant 24 degrees and for those who stayed on board and started their tans with true determination the rewards were easily spotted at dinner.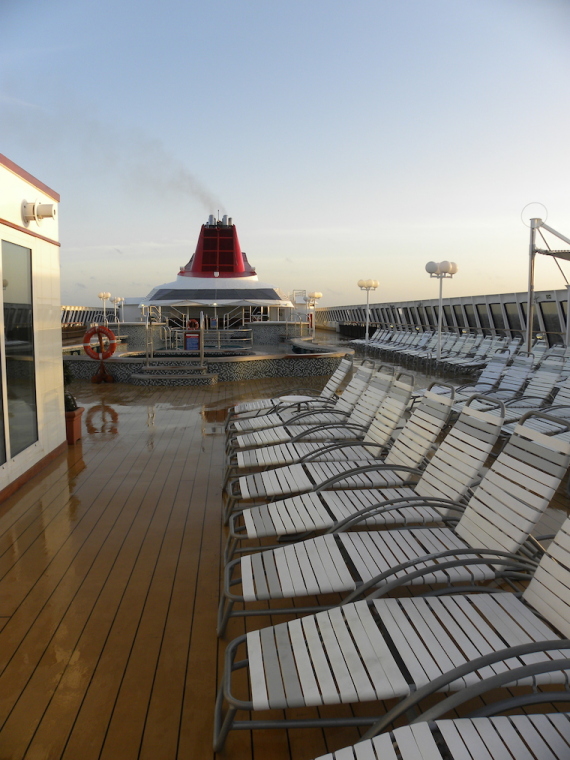 Facilities on board meant that the two following sea days were a hive of activity, yoga and Pilates, spa treatments, lectures, films and entertainment beckoned but the joy of this sort of holiday is that if all you want is a cup of coffee, a book and a chair to watch the waves from there are plenty of quiet space even a well stocked library and a computer room to while away an hour or so, and internet access too if you felt the need to check up on your emails or send pics to friends. Each day heading south to the tropics saw the temperature increase, there was more activity around the pools and jacuzzi and the tanning fans grew incrementally darker.
Our next destination was the Cape Verde Islands, a varied and, until comparatively recently, little known group of islands offering a touch of the tropics in the heart of the Atlantic. As temperatures rarely drop below 20°C all year and can climb to 30°C it is unsurprising that the islands are benefitting from a 30°C it is unsurprising that the islands are benefitting from a recent increase in tourism. Being in the middle of such a large recent increase in tourism. Being in the middle of such a large body of water means that there is no shortage of winds, and certainly the windsurfers were taking full advantage of it, scudding over the waves and whipping their boards into spectacular jumps. Wildlife is another feature which draws people to the islands and their relative isolation means that whales, dolphins and an impressive array of birds are welcome visitors. We wanted to see as much as we could of the various islands and so were delighted to take a tour of our first port, islands and so were delighted to take a tour of our first port, Mindelo, on São Vicente. Suddenly the cultural compass changed as our latitude was the same as the Windward and Leeward Islands in the Caribbean and the whole rhythm and vibe was African not European with the sibilant sounds of Portuguese and the local dialect as an accompaniment. Bargaining skills to the fore, we haggled (in a very polite British sort of fashion) for some wooden handicrafts and lovely vibrant batik cloth and ended our tour at Catfish Bay beach for some local wine tasting and music. This is an ideal way to get a taste of a new place and one can go 'off piste' hiring a local guide and although one can go 'off piste' hiring a local guide and taxi the tours are well run and perfectly timed – and if anything does go awry, such as a flat tyre or a mechanical glitch the ship will wait till you get back! San Antao, as the second largest island in the Cape Verde group offered spectacular, mountainous scenery and vertiginous roads and finally we enjoyed the capital city of Praia which in the past has had some very distinguished sailors hopping off on their way to great adventures, both Vasco de Gama on his way to India and Christopher Columbus on his third voyage to the Americas stopped off for a bit for victualing before heading off to make history.
Speaking of captains, I was lucky enough to interview the Master of the Braemar, Captain Mikael Degerlund on a sunny morning as we headed south. The view from the bridge was suitably spectacular with the sun sparkling on sea, "Just the way I like it," said Captain Degerlund, and with a seafaring career of 35 years I am fairly certain that not all of the seas he has navigated have been so cooperative. Hailing from a very small Finnish town Captain Mikael travelled by ferry to Stockholm and, bitten by the travel bug, he became a deck assistant in the chilly waters of Scandinavia.
He soon rose through the decks and has worked for a number of cruise companies. "What", I asked "is so special about cruising with Fred Olsen, so many of my fellow passengers seemed to be return cruisers?" The answer was no surprise "I think" he said, passengers seemed to be return cruisers?" The answer was no surprise "I think" he said, "that on an Olsen cruise you get the essence of traditional cruising with all of the benefits of being in a small, intimate ship". The crew have a real sense of being part of the Olsen family, and are genuinely delighted to see returning passengers, even if you return after a few years they remember you and greet you like old friends, they even remember your favourite tipple! "We can go to ports and destinations that bigger ships can't and we have an itinerary that constantly offers something new and original to our passengers, that is our USP and the reason for the continuing cruise accolades!" I asked him about his favourite place on board and he thought for a while "Well, I like to have an off duty drink in the Observation Lounge and enjoy our great onboard pianist, perhaps enjoy a burger by the pool – and then head to the gym to atone for previous two!" I heartily concur with all of the above and no doubt my own trips to the gym will need to be as assiduously planned!
As we head towards the coast of West Africa the sun gets hotter and I am thrilled at the prospect of setting foot on the African mainland for the first time. The Cape Verde Islands acted as a sort of experiential buffer zone, preparing us somewhat for the stark contrast between the start of our cruise in the affluent European Canary Islands to our two West African ports of Banjul in The Gambia and Dakar in Senegal.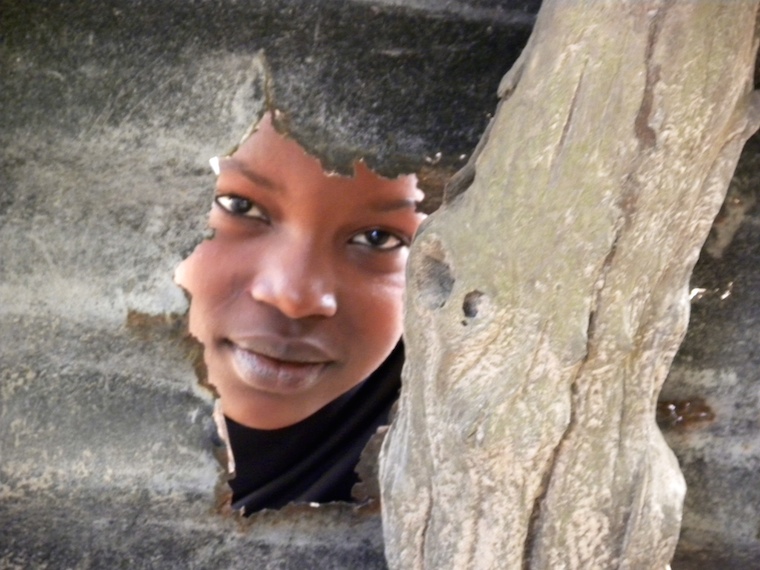 From our seats high up in huge jeep type vehicles we were driven through Banjul and out into the country, stopping at a market to give us a glimpse of daily life. The vast and colourful piles of fruit and veg, some familiar, many less so, were totally eclipsed in the colour spectrum by the gorgeous colours of the dresses and head dresses on display. Amazing, and gravity defying, the headdresses were tied in knots, bows and ruffles and stayed firmly in place as the redoubtable ladies bargained, sold and bought, cleaned fish, chopped vegetables and went about the daily task of providing for their families.Our guide told us very firmly that women cooked, cleaned and took care of the family and indeed they were omnipresent, shepherding flocks of giggling children, carrying home the daily purchases on their heads and watering small veg plots and tending the cooking pots.
Our next stop was at a school where we were warmly welcomed and had a talk from the headmaster who explained the education system before letting us wander around the school compound and chat to the delightful pupils who were keen to share their school with. Many people had bought pens, pencils, chalk and small toys and these were given to the Head to avoid an unseemly scrum! We also visited a local family where we had a chance to taste the local brew of zum zum made from fermented palm sap – the other name of fire water was self explanatory and it was a bit of a bush tucker moment but certainly added to our taste of Africa!
Dakar was a much larger city, shrouded in a fog which was, we discovered, caused by sand particles in the air. As we drove out the blue skies re asserted themselves and we headed to Thies for another market visit. I love local markets and never tire of seeing what is produced, sold and used and I was particularly interested in the array of barks, twigs and leaves sold as traditional remedies. Many people were chewing twigs which was the local tooth cleaning method as toothpaste is not widely available.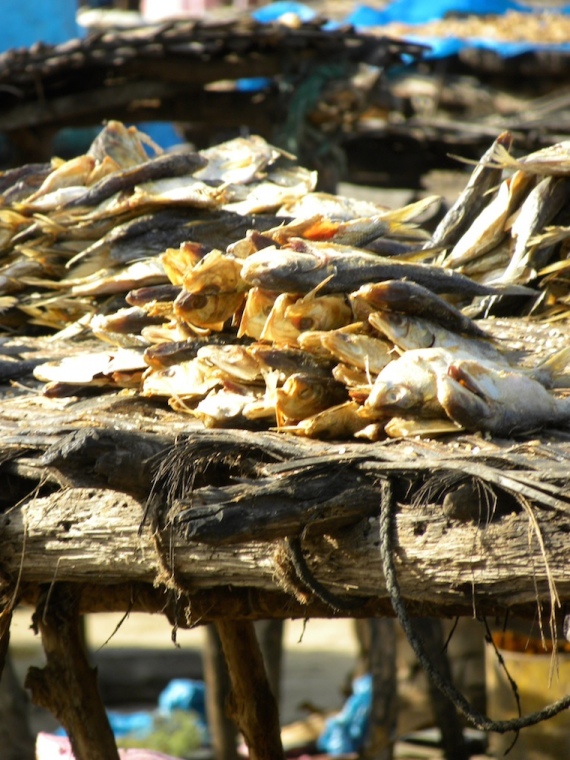 A trip to the beach at Tanje was an assault on the senses in every way as the area is used for the open air drying of the fish landed daily. It was a cacophony of sound, sellers hawking the daily catch, the indomitable ladies arguing over the cost and the seabirds wheeling overhead vying to snatch a tasty morsel, and the pungent smell of fish drying on wooden racks tail to tail and gleaming in the sun.
The Baobab Forest was a wonder; these huge plants (botanically they are not trees) standing with their odd stubby branches vast in girth, and some centuries old, marching along the skyline like a row of fat scarecrows. Our guide told us that some have hollow centres and he had once stood in the middle of a huge tree with 30 other people, I hope the inevitable sprawl of the city into the country does not endanger these wonderful sentinels of West Africa but I fear it may. There is evidence of it already. The problem of urban sprawl is encroaching on the flat scrubland around the city in the form of the detritus of modern life -plastics, cans and bottles in huge swathes litter the country and the efforts of the head teacher we met to educate a future generation is a vital one. A greater contrast would be hard to find than our last stop which was to a five star beach resort, pristine, gleaming and with every modern convenience and perhaps that is what made our excursions into this part of the vast continent of Africa so interesting and thought provoking for it was truly a trip of contrasts. We had an opportunity to visit some off the beaten track places, we met some delightful people, enjoyed some winter sun and appreciated all of the aspects of cruising with Fred Olsen, small, intimate ships, wonderful food and the amazing, happy and friendly crew for whom nothing is too much trouble and a huge smile is the default setting.
Our last few days were spent back in the Canary islands in the gentler winter sun of these islands and when we left the ship the Christmas decorations were up, the carols were playing and our indefatigable friends in the crew were getting ready to welcome another group of lucky passengers. Standing on my balcony last night with the stars as bright as the kohinoor, I looked at the moon overhead and thought that same moon was shining on my chilly English garden, if travel teaches you anything it is perhaps that it is both a great big world, and a very small one.