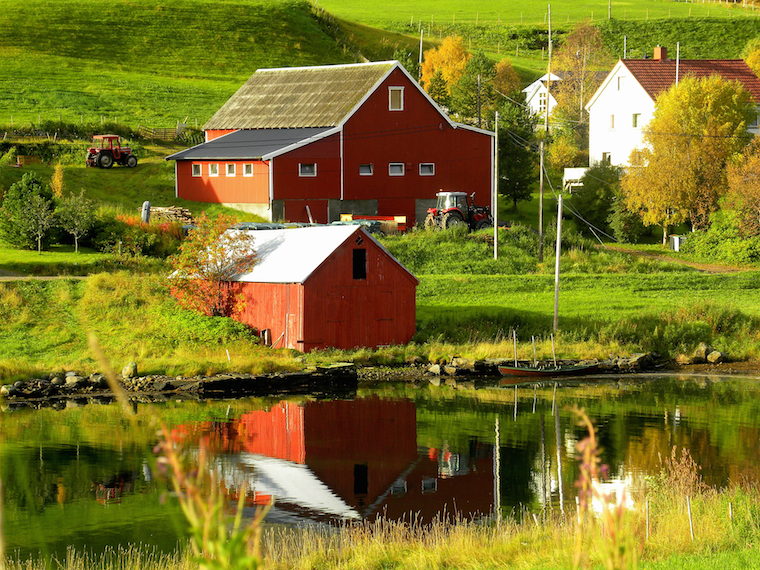 How can I explain Hurtigruten?  If I say it is the Norwegian Coastal Express service you will ask 'and why do I need to know that', if I say it has been sailing around the coast of Norway since 1893 you may say 'so what?' but if I say is has been called 'the most beautiful voyage in the world' that might give you a clue as to why you should investigate further – so let me explain.
I love ships, I love cruises and I love Hurtigruten, but Hurtigruten is not a cruise in the accepted sense.  No Captain's cocktail party, no dressing up and the best footwear is a good pair of walking boots and some comfy socks.  Hurtigruten translates as 'fast route' and my first clue to just how important it is to Norwegians emerged when I bought a map shortly before our trip – and there on a standard map was the Hurtigruten route marked in red all the way along the coast from Bergen to the very top of Norway at Kirkenes.
Our trip started with a fight to Bergen and our first view of the Trollfjord – a rather elegant 16.140 ton ship with the recognisable red Hurtigruten logo on the side.  We boarded quickly as not all passengers embark at Bergen, this is a working ship and people use the service to hop on and off all the way along.  Norway has one of the longest coasts in the world and whilst driving is an option Hurtigruten is the ideal way to go to see friends, get your car delivered, do a spot of shopping or do as we and many others do, just go along for the ride!  There is a choice of cabin sizes but I recommend one with a window – the scenery is what you have come to see – we chose a suite which was a real treat as it was one of the very few with a balcony and I have to admit that lying on our sun loungers as the fjords drifted by was one of the highlights of the trip.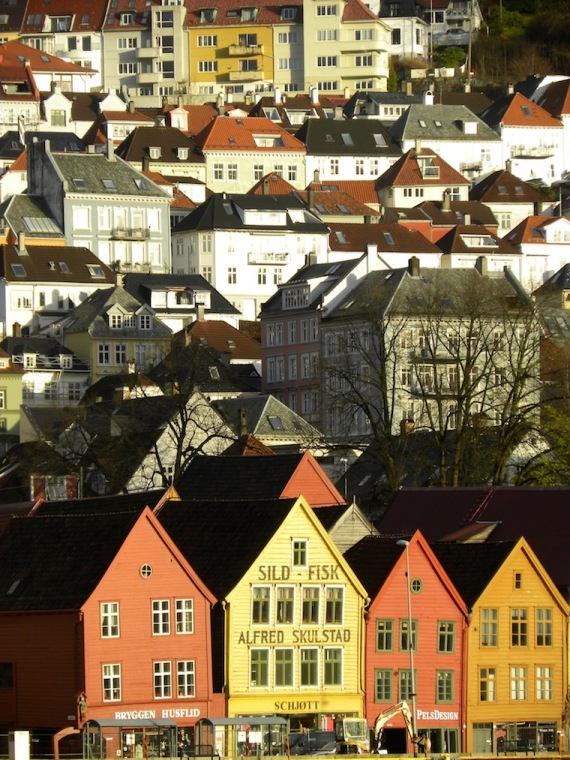 From Bergen we sailed to Alesund and had time to hop ashore and explore this very lovely town which, following a disastrous fire in 1904 was rebuilt in stunning Art Nouveau style.  Back on board after a couple of hours and a few more brief stops before evening. The pleasure of this trip is that the ship stops in all sorts of places, from larger cities such as Tromso and Trondheim to tiny one horse (or should that be reindeer) towns way up in the Lofoten islands to the North Cape where the ship turns around and comes back down again – coming back you see in daylight the places you will have stopped at in the dark on the way up so there is something new every day.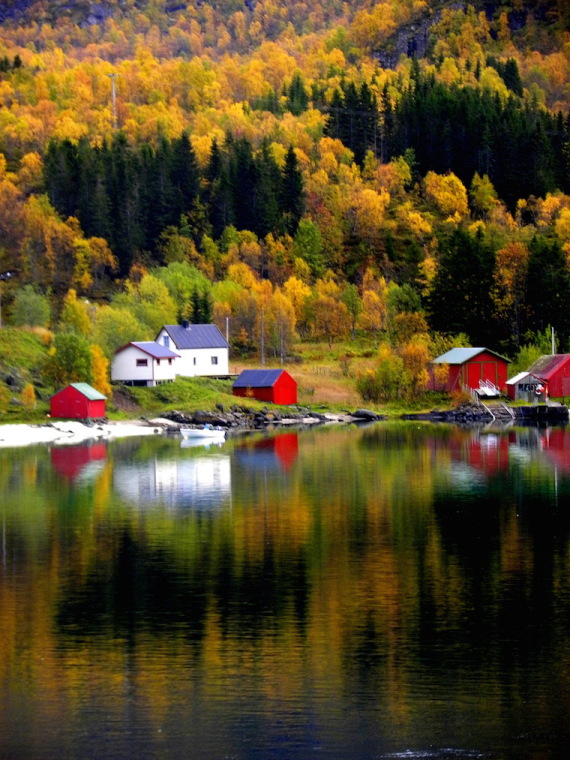 One of the joys of the voyage is stopping off at tiny places and watching the loading and unloading, people coming and going and daily life – this is Norway up close and personal.
As with all sea voyages life at sea soon takes on its own rhythm and one of the biggest surprises was the quality of the food which was really excellent.  Breakfast and lunch are buffet style and dinner is a three course set meal.  We had excellent food throughout with some real highlights – the Arctic buffet with king crab and prawns – and reindeer – was a special highlight but each day's menu was a treat and if you are a fish lover like me it is heaven!  The Coastal Flavours booklet outside the dining room is delightful and gives you a real insight into the history of the dishes  another example of the small things that make this such a special journey.
The public rooms are designed with Scandinavian flair and are very comfortable with great views so fjord watching is comfortable and easy with lots of space.  There is a library, internet access and a 24hour café should you need it and a very well stocked ship's shop with some very tasteful souvenirs.  The decks have comfy chairs and blankets are provided to keep you snug.  If the weather is kind, or even if it is nit there are a couple of very warm Jacuzzis on the upper deck and  one of the delights of our trip was sitting snug and warm in the Jacuzzi with snow on the mountains and the sun going down behind them, magic!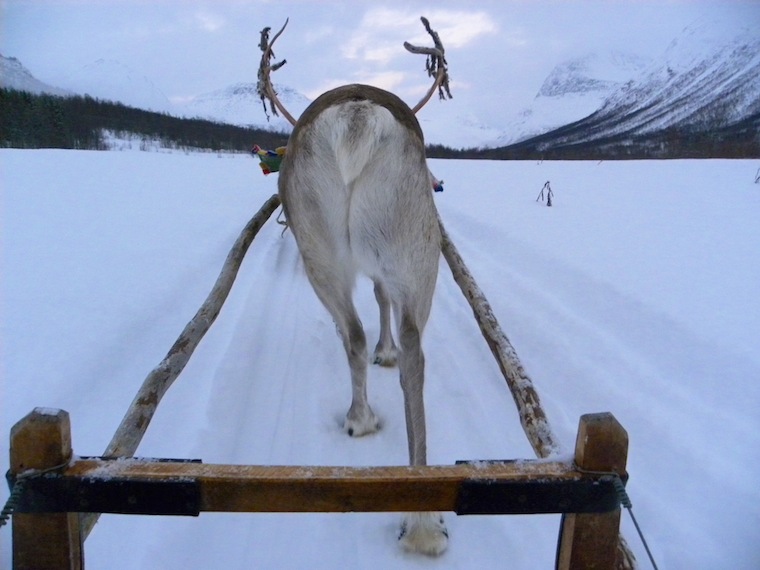 The programme is very detailed and precise to let you know how long you have in each port, sometimes a matter of fifteen minutes and at other times a couple of hours and the trips available are really well organized so that, if it is a longer trip, you are dropped off in one port and collected in another!  A Taste of Vesteralen was the most beautiful coach tour I have ever been on, breath-taking scenery, clouds of snow bunting and a guide with an excellent and very dry sense of humour!
One of the most iconic foods in this part of the world is stock fish – basically cod, fresh from the sea and laid to dry on huge drying racks  left to dry for a considerable amount of time.  Our guide wryly observed that it is normally attacked with a hammer to render it edible, it is then soaked and cooked in many ways including as a type of crisp sold in cinemas.  I am an adventurous soul but my view is that anything I have to bash with a hammer before eating probably doesn't want to be eaten!  She also mentioned that in one town there was an American car club – 'they must be a bit dispirited she observed, 'There is only one street'!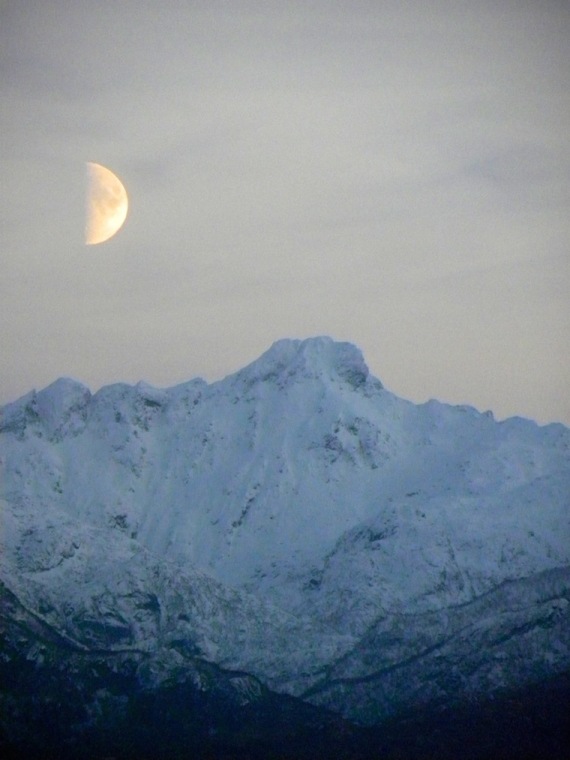 Talking of adventure we also went on a quad biking trip to the Russian Border which was huge fun – a bit scary on the open road as the roundabouts are the wrong way round but it was exhilarating and I bet now may people can say they gave driven round the most northerly roundabout in the world – even if a little tentatively!
There are sea eagle safaris – we saw a pair gliding across the water, and we also saw a pod of whales which caused great excitement although they seemed impervious to our proximity and just splashed and blew water jets alongside us for a while!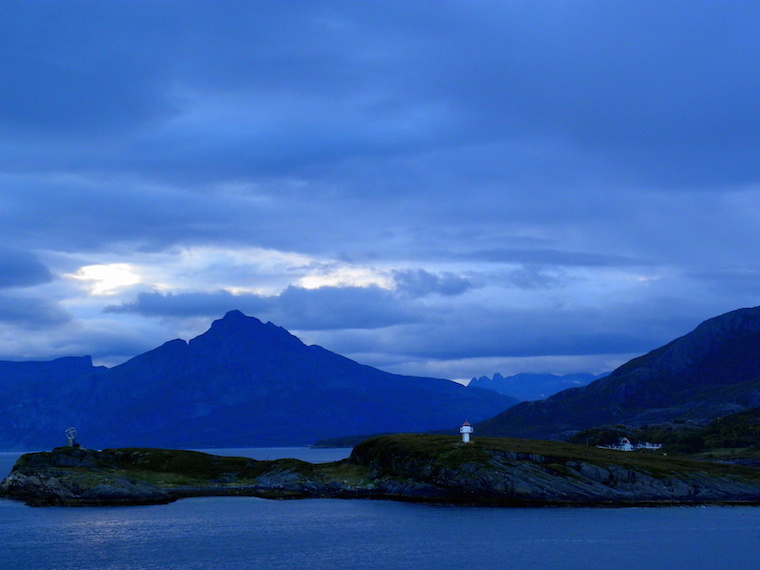 On day 4 you cross the Arctic Circle and the crossing pint is marked by a small island with a monument on it – and a rather extraordinary ceremony on board which is a little like the ones you have when crossing the Equator, but a lot colder and involving a ladle of ice cubes down your back – enthusiastically administered by Njord the ruler of the Seven Seas.  You do get a glass of schnapps to recover though!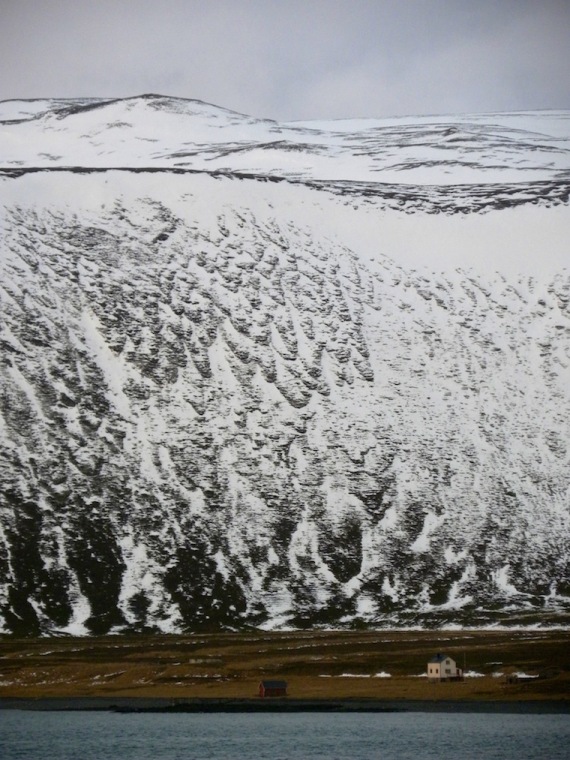 As the days pass and we got further North the scenery got wilder and places more remote – this really is a wonderful wilderness and it is a privilege to be able to access it.  One of the highlights was a trip into the Trollfjord – incredible narrow and steep and a real feat of seamanship – the loudspeaker was playing Grieg as we sailed slowly through the entrance and the atmosphere was really quite gothic.  This really is a voyage of surprises and I don't want to spoil the surprise by letting you into al of the secrets! I had a chat to Captain Ernsten who has worked for the company for a number of years – he was justly proud of the Hurtigruten tradition and the experience that is on offer though he was mildly bemused that passengers frequently ask him if he can provide some rough weather – which happily is beyond his sphere of influence!
When I first boarded the Trollfjord I was anticipating wonderful scenery but what I was not expecting was the total tranquillity, charm, great service and  the overall experience that has made this trip one of the most wonderful holidays I have ever had.  Hurtigruten is a secret that I am willing to share because every person I spoke to on board was as enthusiastic as I am and as keen to share it with likeminded people.
As we sailed back towards Bergen the clouds bringing the first snows of winter were nudging the tops of the mountains – an I am already planning to go back as I want to see this wonderful landscape in its winter coat.
Traveller tips
To find out more about Hurtigren, see their website.
For reservations from the UK, call 0844 448 7654 or email Uk.sales@hurtigruten.com