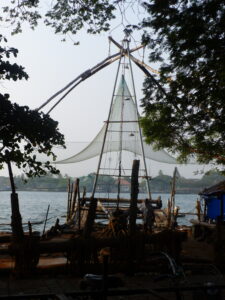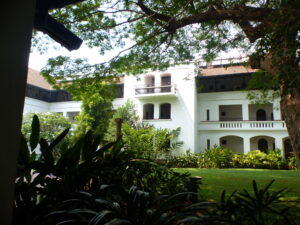 Back for a final few days to Brunton Boatyard and the Biennale in full swing. So much to do – a visit to the Mattancherry Palace is essential, amazing frescoes and a beautiful building too. After that a cooling drink at the amazing Ginger House, what a find this was.
Room after room of extraordinary antiques, from the absolutely massive to the tiny and portable and then onto the water front cafe for a beer and watching the world go by. Then another great discover, the wonderful hand block printed cotton of Craft Tree so pretty and so soft, of course I bought a couple of dresses – and ordered more for The Parrot Cage too!
Fabulous dining at History Restaurant in the hotel – such an innovative and interesting menu and a pleasure to try the various dishes from the diverse communities that have settled in this amazing place.
Sadly Cochin was also our point of departure for this trip – but two days back at home and a new trip already planned and booked for next year! Thank you to everyone who made our trip so special – Joshy our amazing driver, Kuoni for the care and the service – and India for being wonderful!
photos from the top – Chinese Fishing nets, Brunton Boatyard and the Ginger House